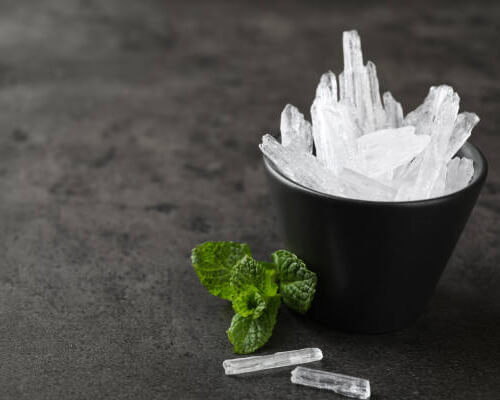 Leading Medium Crystals Manufacturers
Silverline Chemicals is one of the largest Medium Crystals Manufacturers in India. Extracted from peppermint essential oils, Medium Menthol Crystals have valuable antifungal and antibacterial properties that make them suitable for multiple purposes. Its sweet aroma, minty flavour and cooling effects have increased the demand for Menthol Medium Crystals in different industries, which we meet with our consistent supply. Since ancient times, these crystals have varied applications.
It is used as a vital ingredient in skin, hair and personal care products and is common in several day-to-day things like Shampoos, Lip Balms, Conditioners, Toothpastes etc. We use advanced formulating and processing methods to provide unmatched quality. We go beyond the conventional boundaries to test the efficacy of Organic Medium Crystals before packing them for final delivery.
Merits Of Menthol Medium Crystals:
Clean the nasal or chest congestion and promote easier breathing.
Cure sinus discomfort, support a healthy immune system and stabilize the emotions.
Boost taste of several herbal drinks, beverages, food items and confectionery items.
Have antibacterial and antifungal properties that ensure Medium Crystal's effectiveness in curing headache, stomachache, nausea, sinus, common fever, cold, cough and more such health ailments.
Miraculously work for skin, diminish dark spots and age spots while cleaning and moisturizing the skin and leaving it to look firmer, radiant and glowing.
Pure Menthol Medium Crystals also contain properties that regulate oil production, remove dandruff buildup eliminate or reduce nits and lice.
Repairs damage, stimulate blood circulation and purify strands that promote its natural growth and bring a luster appearance to it.
Medium Menthol Crystals have cooling properties that help relax muscles and eases tension, headache and nausea.
Applications Of Medium Crystals:
Used in massage therapies and aromatherapies.
Used in food and confectionery items to add flavor and fragrance.
Used in skincare products like lotion, dark circle removal creams and more.
Used in hair care products, like shampoo, hair serums, hair masks, creams, and conditioners.
Used in making Ayurvedic and modern medicines for curing multiple health ailments.
Want To Buy Medium Crystals In Bulk? Reach Us!
We are now counted among paramount Medium Crystals Suppliers and Exporters from India. You can write your bulk requirements related to products, packaging, prices and distribution policies via the website or call our executives straight away.
Get In Touch?
We will respond as soon as possible.
FAQ'S
Why You Are The Best Medium Crystals Manufacturers?

Silverline Chemicals is one of the trusted Medium Crystals Manufacturers in India that offers you the best quality Medium Crystals. We follow rigorous manufacturing practices for safe production. We strictly follow the industry norms and manufacture every product with updated technology and effective machinery. Our passionate experts double-check the quality of the Medium Crystals and supply you with 100% safe and organic Medium Crystals.
What Are The Various Products You Offer?

Here is the list of various products we offer:
Spearmint Oil
Lemon Oil
Tea Tree Oil
Isoeugenol Oil
Natural Oil
Clove Oil
Terpineol Oil
Menthol Bold
Levomenthol
Crystal Levo Menthol
What Quality Makes Us The Best Medium Crystals Manufacturers?

Here is the list of qualities that drives us as trustworthy Medium Crystals Manufacturers In India, committed to delivering you international-grade Medium Crystals.
100% pure and organic Medium Crystals
Hygienic manufacturing practices
Follow ethical production practices
Provide premium quality as promised.
Maximum client satisfaction.
Capable of bearing bulk delivery
Do The Medium Crystals Provided By You Are Harmless?

Yes, we provide you 100% safe and harmless Medium Crystals. We understand how important health is for a person. So we double-check every product. Our Medium Crystals are laboratory tested and safe for you. So when it comes to safety, Silverline Chemicals is the name that stands on the top. All of our Medium Crystals are safe to use.
Do You Also Provide Medium Crystals In Bulk Apart From Retail

Yes, we provide the Medium Crystals in bulk. We don't deliver a single piece. We are here to meet different industry needs. If you are looking for Medium Crystals in bulk? We are the ones where your search winds. So browse our portfolio to explore our offer list and make your bulk order. For more assistance, call us or drop your requirement via email.
Do You Provide Tracking Information?

Yes, we do. After placing your order, you can track it. When your order is shipped, you will receive an email with your tracking information. Click on the link provided in the email and track your order.